Post Graduate Center, Kavali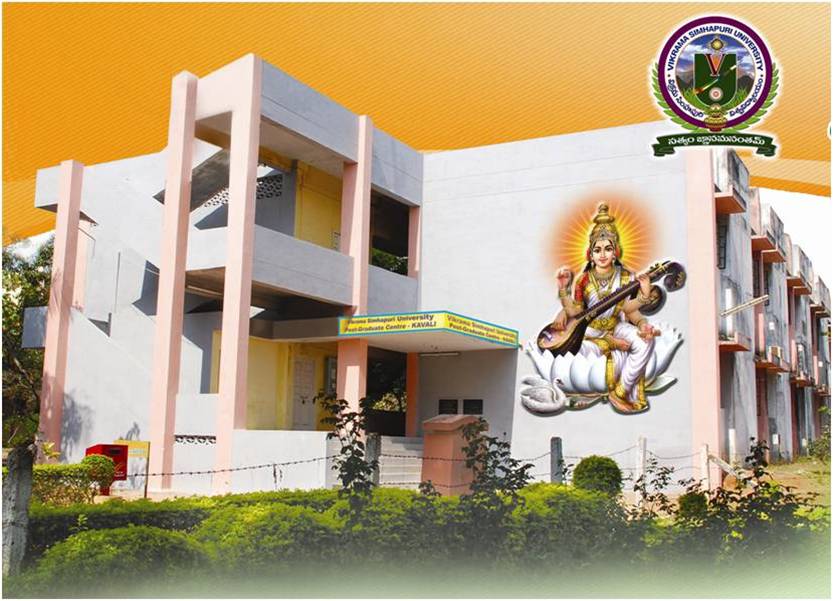 Vikrama Simhapuri University PG Centre, Kavali, was started under Visvodaya Management Kavali in 1972 with Economics and Commerce in 1973 at Tummalapenta (Ravindra Nagar), later transferred to Jawahar Bharati Campus in 1976. Subsequently in 1978, the two courses were handed over to S.V.University, Tirupati and the P.G. Centre became a full fledged P.G. Centre with the introduction of two more courses Physics and Zoology in September 1979 with Prof. K. Sasirababu as founder Special Officer for a full fledged S.V. University P.G Centre, Kavali. In 1984, the PG Centre got shifted to its own campus of 78.9 acres on the Peddapavani Road Kavali. The PG Centre Shifted from SV University to Vikrama Simhapuri University in 2011. At present the PG Centre have 6 regular and 3 self supporting courses.
Students have secured good ranks and gold medals. Most of the students have occupied higher positions in academic institutions as well as research institutions besides government services.
There has been a good amount of research output besides excellent academic activity. Several research projects have been operated, financed by various organizations like CSIR, ICSSR, UGC, DBT etc.. Quite a good number of Ph.Ds., and M.Phils have been awarded in many research fields of current importance. Research has also been carried out in collaboration with national institutions and also some govt. sector organizations.
More than 35 books and 700 research articles in national and internationally reputed journals have been the distinct contribution by the faculty of the PG Centre. There have been organized / conducted nearly 15 national seminars and several major projects have been completed.
PG Centre Library is well equipped with quite a good number of books (31,566), journals (67) and magazines (24) for the benefit of the students. The library is well furnished and is situated in an area of 3,960 sq. ft.
Two Computer laboratories have been catering to the needs of all the students in carrying out the computer practicals. About 100 systems have been procured.
Each Science (Physics, Zoology, Botany Labs) Department is also well equipped with the necessary equipments in the recent and advanced fields.
The office and all the nine departments are housed in the academic building with two floors, the total plinth area being 21,312 sq.ft. 19 single span (24'x12') and 24 double span rooms besides 4 span and 3 span rooms accommodate the entire academic sphere including two seminar halls. About 3,960 sq. ft. area for library block and 19,746 and 11,845 sq. ft. for Men's and Women's Hostels have been allocated.
Click on this File for more Information about VSU PG Centre Kavali