Vikrama Simhapuri University Library was started in 2008. The university library works as a hub of knowledge base for the students, Research Scholars and faculty members. The library collection includes 14,000+ Volumes of printed books, subscription to 90+ printed Journals and Magazines, 350 items of Non-book materials, 346 back volumes of journals and 52 volumes of theses in print form and 07 daily news papers available in our library. The mode of access is open access. The Library caters mainly to the needs of post graduate students, research scholars, faculties and other staff of the university. The library provides long range and short range reference services to the users including current awareness service, selective dissemination of information services as an extension activity, many of the library services are extended to the students and faculty members of the University. The library is planning to provide electronic information sources and services through the digital library platform.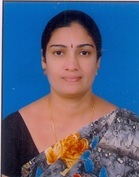 Dr. Y.Sudha Rani M.A., M.L.I.Sc., PhD
Assistant Professor& Library In-charge
Department: University Library
Institute: Vikrama Simhapuri University, Nellore
Mail id: sudharanidr@gmail.com , libraryvsu@gmail.com
Dr.Y.Sudha Rani, working as an Asst. Professor and Library In-charge of Vikrama Simhapuri University Library, Nellore. Started her career as an Asst. Librarian in ANU College of Engineering and Technology, Acharya Nagarjuna University, Guntur. Having work experience of more than 15 years.
She published more than 50 research papers in national and international conferences, and in journals. She is as a life member of various professional associations.